Name
Maharu Sena Kanaka
Age
29
Gender
Female
Birthplace
Seiren
Nickname
None
First Manga Appearance
Act. 1
First Anime Appearance
Bravo From the Bathroom!
Japanese Voice Actor
Sayaka Ohara
English Voice Actor
Karen Thompson
Maharu Sena Kanaka is the older sister of Miharu Sena Kanaka. She is known for her red hair, tan skin, and large breasts. In fear of dying lonely, she sent Koyomi Hare Nanaka and Tomoka Lana Jude to find her a husband. In the last episode of the anime, she asked Hayate, one of Lisa Fukuyama's bodyguards if he wanted to be married. His answer, if any, is unknown. In the last story of the manga, she married Kazuha. However, despite those and giving Yukinari and Miharu her blessing, in the anime and manga, she still loves Yukinari, still flirts with him, and still wants him to be her husband.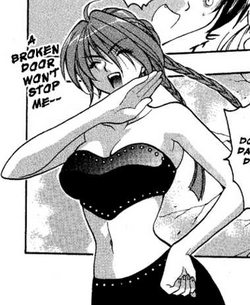 Ad blocker interference detected!
Wikia is a free-to-use site that makes money from advertising. We have a modified experience for viewers using ad blockers

Wikia is not accessible if you've made further modifications. Remove the custom ad blocker rule(s) and the page will load as expected.