Girls Bravo Anime Series
Talk

0
132pages on
this wiki
Girls Bravo Anime Series is based on Girls Bravo Manga Series.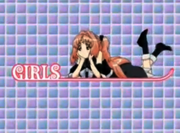 Plot of the Series
Edit
Yukinari Sasaki is a troubled boy who was bullied by girls at a young age. As a result, he breaks out in a rash every time a girl touches him. One day, he is magically teleported to the planet Seiren, a planet with a mostly female population, where he meets a cute gluttonous girl named Miharu. Miharu is unlike any other girl he has met, as he doesn't get rashes when she touches him. The two return to Earth, where Yukinari shows his new friend the ways of Earth.
Differences from the Manga
Edit
While the anime is still more or less the same as the manga, there are some minor differences.
Some stories from the manga were adapted to episodes of the anime, but in the anime, the stories' chronological order is different. For example, the manga story that the episode Bravo at the Hot Springs! is based on took place before Tomoka and Koyomi came to Earth, and the Fukuyamas had less involvement in the plot. In the anime version, the story took place after Tomoka and Koyomi came to Earth, and Kazuharu Fukuyama used his offering to let the female protagonists use his hot spring so that he could spy on them bathing. He also selflessly used his plot to help his sister Lisa get closer to Yukinari.
In the manga, Lisa Fukuyama first met Ebi when she wanted to use a rare creature from another dimension to make a potion, but spared her when she reminded her of her dead cat. In the anime, Lisa befriended Ebi, who was temporarily changed into a human by Tomoka, because she reminded her of her best friend, a doll she once brought to life.
There are some characters in the manga that don't appear in the anime, such as Yukinari's mother and Kazuha. Likewise, there were also characters in the anime that never appeared in the manga.
In the anime, there are more stories focusing on Seiren.
Yukinari is cured of his allergy to females in both the manga and the anime, but the results are different in both. In the manga, it was revealed that he was hooked up to a virtual reality machine and that Fukuyama used him to test it. In the anime, he is truly cured of his condition, but becomes allergic to girls again after he meets his female counterpart from Seiren, Yukina.
The anime is a bit more explicit than the manga. In both, female nudity is a lot more common than male nudity, but the manga has all forms of nudity censored(except for female rear nudity). Here, only the genitalia is censored.
Miharu and Maharu's bath is different. In the manga it is a large white square shaped bathtub but in the anime it is a large bathing pool at ground level that has water brought in it through a fountain.
Characters
Edit
Main Characters
Edit
Minor Characters
Edit
List of Anime released
Edit
Reception
Edit