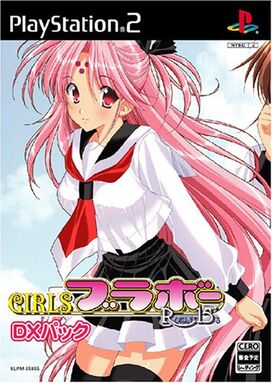 Girls Bravo: Romance 15's was a visual novel for the PlayStation 2 loosely based on the
Girls Bravo Manga Series
and
Girls Bravo Anime Series
. It was developed by Kadokawa Shoten and released exclusively in Japan on January 27, 2005. It had a CERO rating of 15.
The player controls Yukinari Sasaki. He has a Female Allergy Improvement System used to measure how long he's been near girls and how severe his allergic reactions have become. If he spends too much time around girls, he will faint. If he manages to spend enough time with girls without getting allergic, his resistance level gets higher. He can choose to be with Miharu Sena Kanaka, Kirie Kojima, Koyomi Hare Nanaka, Tomoka Lana Jude, or a new character named Canada. Whoever he spends the most time with becomes his lover and determines the ending of the game.
Ad blocker interference detected!
Wikia is a free-to-use site that makes money from advertising. We have a modified experience for viewers using ad blockers

Wikia is not accessible if you've made further modifications. Remove the custom ad blocker rule(s) and the page will load as expected.